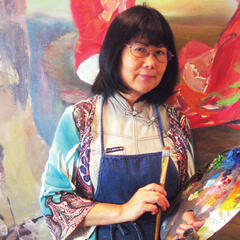 bilan liao Artwork
BiLan Liao is an artist, retired art professor, author of the book "Diary of the Dragon's Daughter", and filmmaker of the "An Artist's Journey from China to America".
She painted and sculpt of four series of art work: Painting as a Window into Chinese History, Coming into Tibet, Women suffering in the War, and My Life In American.
Video - Diary of the Dragon's Daughter - Painting and Sculpture by BiLan
Sculpture
interviews / Art Exhibitions
BiLan has been featured in these news program: ABC Nightline, BBC (Chinese), Chicago Movie Magazine, 106 Radio, RTHK TV (Englishprogram), ZORA Medium, AJC-Atlanta News, China Supper News, The World Newspaper, Morning Blend (ABC), WSIU (PBS), National Public Radio, Paducah Channel 6 and 2, Atlanta Chinese News, Women of Wealth magazine, PaducahSun newspaper, Paducah Life magazine, and Georgia Magazine etc.
BiLan has shown many of her paintings in the book in museums and galleries, and she has lectured nationally and internationally.
Contact
2019 Readers' Favorite Book Review and Award for the Book Diary of th Dragon's Daughter